Whew, I managed to survive my first week of waking up at 6:30 every morning and working from 8-5 with an hour for lunch. I worked 39 hours this week! Coming from someone who used to work 15-25 each week this is a lot to get used to.
The only time I miss my part time job is when it comes to sleeping in. Other wise I love having steady hours, having my own desk which I get to decorate, and being able to wear cute outfits.
Oh and I DON'T work weekends or nights any longer! Plus I have more holidays off AND I signed up for my benefits yesterday!! Those kick in after the first 90 days.
Now that you've been updated on all of that jazz.....I've decided to try and keep up with taking daily work ootd pics and posting them to instagram. So if you follow me on there at Lifesabeach2110....sorry these will be a review for you. But suck it up b/c I'll review my work week each week and I know you don't want to miss out on that. ;)
For privacy reasons I will not reveal exactly where I work, but can tell you it's in a PT office.
Anywho.....we ran out of toner for our printer this week....and hopefully the new toner will arrive by Monday. It SUCKS not being able to print, copy, etc important documents.
Also the parking lot is "under construction" and it's taking way longer than it should.....they didn't do anything on it for two days and then yesterday worked for like 20 minutes before it started raining.....so the parking lot is still 75% blocked off and remains a hot mess.
Okay back to the ootd pics. With out further ado....
Monday! Still working on having instagram fit my shoes in the pic.
Tuesday!
Wednesday!
Thursday!
Friday!
Also this week I am linking up with Sara!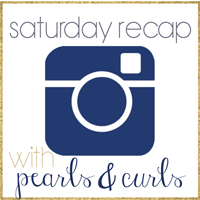 Saw a hot air balloon flying really low! About to land.
Delta Zeta creed print out from etsy framed and on my desk at work!
Got a pedi with my friend Meghan Thursday night.
Pretty pink ballon flower for my desk!
$13 Lilly P tray from home goods for my desk!
Seems to be everyone's favorite item on my desk, minus the candy jar. :D
I'll actually take pics of my desk once it's more set up the way I like it aka have all the decorations I want.
What did you do this week?